Process Servers & More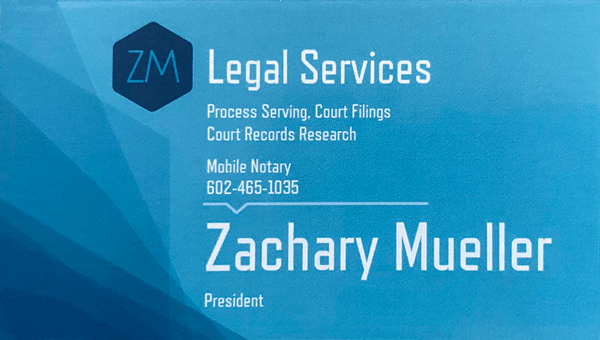 Z. M. Legal Services is an Arizona Process Server company and an Attorney/Collection support service dedicated to providing professional services at an affordable rate to both individuals and corporate accounts.
Our goal is to provide you with a trusted and competent solution at a great value. Our Arizona Process Server company will provide you and your firm with the latest technology available coupled with an unparalleled level of customer service.
Our service of process team will keep you informed with status reports containing the exact details of your service, including dates and times of every attempt, along with an executed proof of service once your documents have been served.
We stay up-to-date with the ever-changing rules of civil procedure to ensure your papers are always served properly.
---
Our Services
Court Services
Our experience in filing important documents for our customers spans a decade. During that time we've learned the courts inside and out and are experts in the trade of filing documents. We address any problem as soon as possible and keep in close contact with you throughout the process. We will fight for our clients and get the job done right.
Messenger Services
A vital aspect of the practice of law is a reliable messenger service for delivery of legal documents to the various courts, attorneys or government agencies. We exhibit great care in our duties for our clients, and our team shares the same commitment to providing consistent, high-quality service no matter what the assignment.

Research
We offer a quick turnaround on documents retrieved from state, federal and bankruptcy courts. We work with people in all jurisdictions nationwide, including recorders offices, secretaries of state, law libraries and both state and federal archives. Our highly-trained team is always available to ensure accuracy and to keep your appraised of your order status.
Mobile Notary